For the lifeform in Xenoblade Chronicles 2, see Blade.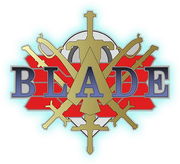 BLADE is an acronym for "Builders of the Legacy After the Destruction of Earth", known as "Beyond the Logos Artificial Destiny Emancipator" in the Japanese version, and pronounced /ˈbleɪd/ as one syllable. It is a private military organization in Xenoblade Chronicles X. As a part of the main United Government Forces, it was formed to support the temporary autonomous government. BLADE is commanded by the officer Vandham.
The organization's primary goal is finding and securing the Lifehold Core, and any pieces of it scattered across planet Mira. Beyond that duty, BLADE also explores the alien planet, combats any dangerous indigens, gathers resources for New Los Angeles, and expands FrontierNav.
Locations
The BLADE quarters interior is a region of New Los Angeles called the BLADE Barracks. BLADE Barracks is divided into landmarks such as Barracks Interior. The BLADE quarters exterior corresponds to the Administrative District region where the BLADE Tower is landmarked as the entrance of the Barracks. The Tower dominates the city with a large screen displaying information for the citizens of New Los Angeles. Several BLADE base camps can also be found throughout Mira, offering both respite and information.
Divisions
Main article: Division
The organization is divided into eight Divisions which have different specialized tasks and missions. In particular, some of them secure food and water, maintain public order in settlements, or deal with resource procurement. Despite this, individual BLADEs have a lot of flexibility in how they operate (largely out of necessity due to manpower and resource shortages), and members can request a transfer to different divisions.
Members
BLADE Leader
Main Characters
Recruitable Characters
DLC Recruitable Characters
Supporting Characters
Non-affiliated Characters
Main Character
Recruitable Character
Gallery
Community content is available under
CC-BY-SA
unless otherwise noted.