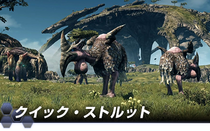 Evellos (Japanese: ストルット, Sutorutto) are bird-like enemies in Xenoblade Chronicles X that walk on two legs and do not fly.
Description
"Inhabitants of Mira's southern lands, these giant birds sport highly developed beaks that occupy most of their heads and effectively serve as horns. Their diet consists primarily of insects, the exoskeleton of which can be easily pierced by a single sharp peck."
"Evellos are pair-bonding creatures, often sighted in groups of a single male and female. Reproduction occurs every two years, with hatchlings raised by both the genetic parents and another closely related couple with no young of their own for that year. Evello eggs are unusually large, and a favorite food of many predators."
Color Variants
Evellos fall into two color variants:
Light evellos have light brown feathers with light tan wattles, hump, and feathers. They can drop Meaty Evello Eggs.
Dark evellos have reddish brown feathers with dark brown wattles, hump, and feathers. They can drop Ebony Evello Eggs.
List of Evellos
Etymology
Evello is Latin for tear out, pull, pluck, erase, or eradicate.
Gallery
Community content is available under
CC-BY-SA
unless otherwise noted.