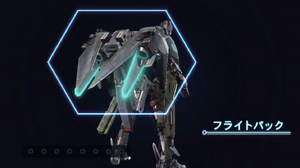 The Flight Module is a Skell component in Xenoblade Chronicles X. It enables a Skell to fly in the skies above Mira, allowing the party to reach locations not otherwise accessible.
By the time Cross first arrives in New Los Angeles, Lin has been working on development of a Skell flight pack for some time with little success. It is completed during the affinity mission A Girl's Wings, which becomes available after Chapter 9, and Vandham renames it the Skell flight module.
The flight module is automatically equipped upon acquisition, and removing it is not possible. It is incorporated into all Skells after the mission is completed, including those already owned by the party. During flight, the song "Don't worry" plays.
Fuel Consumption
While in flight a Skell consumes Skell Fuel, and the rate of fuel consumption is doubled during battle. Pressing ZR and ZL simultaneously shuts down the thrusters, stopping fuel consumption and putting the Skell into an unpowered glide or free fall.
Videos
Community content is available under
CC-BY-SA
unless otherwise noted.