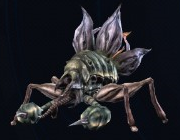 Germivores (Japanese: ブロース, Burōsu) are small insectoids in Xenoblade Chronicles X. They often mimic flowers, though their legs can give them away. They can be found in all five regions.
Description
"Four-legged insects that live along lakeshores, burying their heads in the ground to better resemble flowers. Small, unwary creatures who wander by are easily turned into surprise meals, though even larger creatures can find themselves in trouble when faced with an entire field of germivores."
"If mimicry alone is not enough to procure sufficient sustenance, the creatures will switch to a nocturnal form of scavenging in which they live off a diet of carrion and dung."
Color Variants
Germivores fall into two color variants:
List of Germivores
Etymology
Germivore literally means seed-eater.
Gallery
Community content is available under
CC-BY-SA
unless otherwise noted.