Heart-to-Hearts in Xenoblade Chronicles
The future doesn't belong to you!


For those who have not completed games in the Xenoblade Chronicles series, this page contains spoilers regarding the plot. Discretion is advised.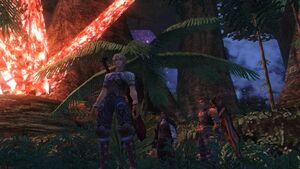 Heart-to-Hearts are interactions between two playable characters in Xenoblade Chronicles. Depending on dialog choices, affinity between the involved characters can be either increased or decreased. Heart-to-Hearts also help build character development in the game's storyline.
To activate a Heart-to-Heart, the characters must have reached at least the required affinity and both be in the active party. Some Heart-to-Hearts can only be accessed at a certain time of day. It also appears to be required that the Heart-to-Heart of a lower affinity must have been activated already, though this may not always be the case. The scene can still be played out even if the characters have a greater affinity than required, and they are never locked out or missable. Some will not activate even with the required affinity until a certain point in the main story has been reached, indicated by a message box rather than the usual title box when attempting to activate.
There are three Heart-to-Hearts locations for each pair of playable characters, resulting in a total of 63 Heart-to-Hearts.
The original Heart-to-Heart transcriptions used can be found here and here.
Locations
Community content is available under
CC-BY-SA
unless otherwise noted.