The future doesn't belong to you!


For those who have not completed games in the Xenoblade Chronicles series, this page contains spoilers regarding the plot. Discretion is advised.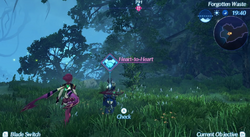 Heart-to-Hearts are interactions between multiple characters in Xenoblade Chronicles 2. They can be either about the interactions between playable characters, or between a Blade and their Driver. Heart-to-Hearts also help build character development in the game's storyline. For Blade Heart-to Hearts, depending on dialog choices, trust will be increased by various amounts.
If the party rests at an inn outside of story events, a brief dialogue may occur between party members. The dialogue content directs the player to the location of a Heart-to-Heart. Some Heart-to-Hearts are only unlocked after such a dialogue happens.
Locations
※ This Heart-to-Heart is a prerequisite for the quest Powered-Up Poppi.