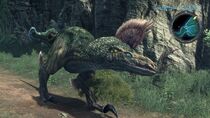 Insidias (Japanese: パラコ, Parako) are bipedal reptilian-like creatures in Xenoblade Chronicles X. They look like small Dilophosaurids.
Description
"Concealed among the trees, these dinosaur-like carnivores wait for prey to wander by, then use their powerful legs to close in for the kill. If a stronger creature poses a threat, insidias will violently cough up stones from their digestive tracts, creating a brief window which can be used to beat a hasty retreat."
"Herds consist of several insidias with no special regard for gender or age. During breeding season, multiple herds gather in a single spot for mate selection. Those who fail to acquire mates assume nursing duty, helping others to raise their young."
Color Variants
Insidias fall into two color variants:
Green insidias have green fur, light grey legs with green markings, and white-tipped frills. They can drop Evolved Insidia Claws.
Pink insidias have pink fur, dark grey legs, and red-tipped frills. They can drop Ornate Insidia Claws.
List of Insidias
Etymology
Insidia is Latin for "ambush."
Gallery
Community content is available under
CC-BY-SA
unless otherwise noted.