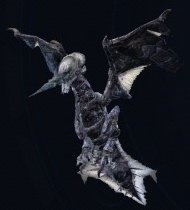 Jaculs (Japanese: ハスタラ, Hasutara) are flying bird-like creatures in Xenoblade Chronicles X. They are counterparts of the Auravis.
Description
"Immense avian beasts with skeletal structures that as hard as steel. After setting their sights on a victim, they shift from a passive glide to a rapid vertical dive, running the target through with a devastating horn strike. Should they miss, jaculs will mark their prey with an odorous fluid expelled from the dorsal pouch and then attempt to track them down without mercy. They've even been known to leave their territory and pursue prey for days on end."
"Jaculs don't incubate their eggs directly, instead leaving the work to geothermal heat. Generally not social creatures, they form flocks only during breeding season, which makes the task of guarding eggs and feeding chicks something of a group effort."
Color Variants
Jaculs fall into two color variants:
Dark Jaculs are dark red and black with pale yellow-green wing membranes. They can drop Blue Jacul Wings.
Light Jaculs are green with white wing membranes. They can drop Green Jacul Wings.
List of Jaculs
Etymology
Jacul may come from Latin jaculus (iaculus) meaning to throw, or the Latin jaculum (iaculum) referring to a dart, a javelin or a retiarius' casting net.
Gallery
Community content is available under
CC-BY-SA
unless otherwise noted.