The future doesn't belong to you!


For those who have not completed games in the Xenoblade Chronicles series, this page contains spoilers regarding the plot. Discretion is advised.
"Finding a path that lets us all live, I will make that my mission."
— Mio
Mio (Japanese: ミオ) is a playable character and, along with Noah, one of the two central protagonists of Xenoblade Chronicles 3.[1]
Overview
She is a soldier of Agnus and from Colony Gamma along with Sena and Taion. She is an off-seer who was initially working for Colony Gamma's arms expansion force.[2]. Mio is an Agnian Human with Blade and Gormotti traits.
Personality
Mio has a serious and gentle personality. She writes in a diary as a hobby. She is on her tenth Term and has about three more months left to live; consequently, the question of her legacy weighs deeply on her.
Gameplay
In battle, her speed allows her to easily evade attacks while dishing out damage with her Dual Moonblades, which are weapons similar to Nia's Twin Rings with yellow energy blades along their edges. She can Interlink with Noah into a giant form called Ouroboros. Her initial class is Zephyr, a Defender class. Later in the game, Mio gains access to a unique Talent Art known as Dominion Flower.
Merchandise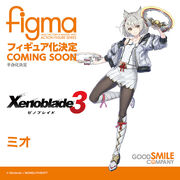 Following Pyra, Mythra, KOS-MOS or Melia figures, Good Smile Company has announced a Mio figure made into a 1/7 scale and based on her design in her Zephyr class on August 6, 2022, during the Smile Fest 2022.[3]
Trivia
It is strongly hinted in Nia's Ascension Quest that Mio is a direct descendant of Nia in some way, which is reinforced by their similar appearance and the color of their Core Crystals.
Gallery
Artwork
Screenshots
References