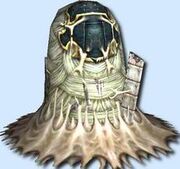 Pods are a family of enemies in Xenoblade Chronicles and Xenoblade Chronicles 2. Pods are unusual in that they hold other enemies, which emerge when the pod is destroyed or at low health.
Xenoblade Chronicles
Pods typically hold Arachno or other insect monsters. Notable exceptions include the giant Pandora Pods in the small side cave south of the Windy Cave, which hold Envy Gogols, and Bonterra Pods in the Antol Den which imprisons Banquet Vassago and Fork Chilkins.
Pods are first encountered in Tephra Cave. They are later seen on the Bionis' Leg and at Valak Mountain.
Normal Minor Enemies
Story Exclusive Enemy
Xenoblade Chronicles 2
Normal Minor Enemies