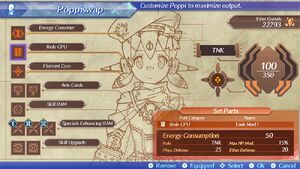 Poppiswap is a mechanic in Xenoblade Chronicles 2. As artificial special Blades, Poppi α, Poppi QT, and Poppi QTπ have their own unique Blade mechanics and a particular customization. Players can use items earned through the Tiger! Tiger! minigame to upgrade and customize each artificial Blade's elements, roles and skills. The player can also use Ether Crystals earned by playing Tiger! Tiger! to create parts for Poppi and upgrade her Ether Furnace, unlocking more equipment slots and allowing for more powerful items to be equipped on her.
Poppi Parts
Poppiswap parts act as a replacement to equipment and abilities normally accessible to other Blades, which Poppi cannot use due to being an Artificial Blade. Each one has a cost to the energy consumption of her Ether Furnace, whose capacity can be upgraded with Ether Crystals. Poppi α and Poppi QT are compatible with only certain parts, however Poppi QTπ can equip any part in the game.
Elemental Cores and Role CPU modules allow the player to change the element and role of the Poppi forms, respectively. Arts Cards change Poppi's available Blade Arts, while Specials Enhancing RAM determines the effects of her three levels of Blade Specials. Skill RAM are equivalent to Aux Cores in functionality. Skill Upgrades are additional Skill RAM slots that can be unlocked with Ether Crystals.
Types of Poppi Parts
List of Poppi Parts
※ Part cannot be crafted through the Poppiswap interface and must be obtained randomly from the big chest at the end of a specific Tiger! Tiger! stage.
† Costume Skill RAM cannot be crafted or obtained through normal means and must be purchased from Noponstone Exchange using Noponstones in the Land of Challenge (DLC only).
Create/Crystallize
The player can spend Ether Crystals in order to create new parts, provided they have the necessary technical manual. This can be accomplished in the "Create/Crystallize Parts" menu that is accessible by selecting a Poppi form. By pressing

in this menu, one can also choose to crystallize already obtained parts, turning them back into Ether Crystals. This allows for the conversion of unnecessary equipment back into resources that can be used to craft desired parts, greatly reducing the player's dependence on Tiger! Tiger! rewards.
Technical Manuals
Most Poppiswap parts cannot be crafted until a specific Technical Manual, of which there are 5 total, has been obtained.
Gallery