The future doesn't belong to you!


For those who have not completed games in the Xenoblade Chronicles series, this page contains spoilers regarding the plot. Discretion is advised.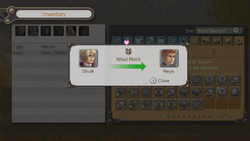 Presents are collectables in Xenoblade Chronicles that are given from one party member to another party member. Each item may have different affinity results, ranging from -20 to 30. Generally, each party member tends to prefer a certain category of items and dislike another. While giving an unwanted gift may lower the affinity between two characters, any acquired skill-link levels will be retained (i.e. if the affinity level drops from Pink Heart to Purple Flower, the fifth skill-link level is still available).
Affinity
1 heart: 2 to 14
2 hearts: 16 to 20
3 hearts: 22 to 30
4 hearts: 100
Best and Worst Gifts
Gifts by Type
Community content is available under
CC-BY-SA
unless otherwise noted.