The future doesn't belong to you!


For those who have not completed games in the Xenoblade Chronicles series, this page contains spoilers regarding the plot. Discretion is advised.
Project X Zone 2 is the second installment in the Project X Zone series. The game is titled as Project X Zone 2: Brave New World (Japanese: プロジェクト クロスゾーン2:ブレイブニューワールド, Purojekuto Kurosu Zōn 2: Bureibu Nyū Wārudo) in Japan. It was developed by Monolith Soft, and produced and published by Bandai Namco Entertainment. Fiora has been introduced as a playable character, alongside other Xenoblade Chronicles content such as areas and an enemy being represented in the game. Fiora was also one of the first three Nintendo characters to have been introduced in the game.
Playable Characters
Main article: Fiora's Article on Project X Zone wiki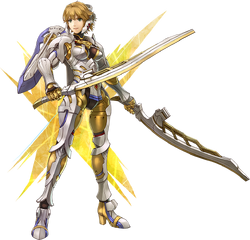 Fiora is the only playable character present from Xenoblade Chronicles and was one of the first three confirmed playable Nintendo characters (the other two being Chrom and Lucina from Fire Emblem Awakening). She appears in the game in her Mechonis form, and is one half of a pair unit - partnered with KOS-MOS from Monolith Soft's Xenosaga series. She is introduced in Chapter 6; it is revealed that by using the teleporter to the Meyneth Shrine, she was accidentally sent to the planet Michtam, where she teams up with KOS-MOS.
Attacks
Fiora uses many of her Arts as attacks in the game. They are as follows:
Additionally, she is capable of summoning a Monado replica and using a version of Monado Buster. She also has an attack known as Lunar Wind.
Enemy Units
Main article: Metal Face's Article on Project X Zone wiki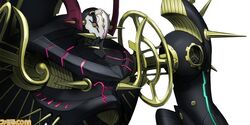 Metal Face appears as an enemy in the game. He makes his appearance in Chapter 6 alongside Fiora, and reappears for Chapter 29 and 30. In Chapter 6, he teams up with T-elos.
The following Mechon are also encountered as enemy units in the game:
Story
The following chapters in the game's story feature Xenoblade elements:
Music
The tracks You Will Know Our Names and Engage the Enemy were given subtle remixes for this game.
Gallery
Video
External links
Community content is available under
CC-BY-SA
unless otherwise noted.