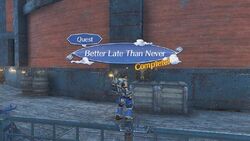 Quests are a collection of requests in Xenoblade Chronicles 2 and Torna ~ The Golden Country that the many people of Alrest ask of the party, or that are automatically triggered in the course of the story. Most quests do not need to be completed to advance the story, but some, known as Main Story Quests, do. Quests can vary from delivering letters to defeating monsters that roam in the different nations. Very rare items, experience points, and money can be acquired from them. Moreover, when finishing a quest, all active Blades in the party will have their Trust increased.
When a quest is active, it is possible to select it from the respective menu. By doing so, a marker will appear on the upper part of the screen pointing towards the current objective. Moreover, it will be possible to obtain information about the current objective by pressing ZR.
Quests in Xenoblade Chronicles 2
Some quests, known as Blade Quests, are needed in order to unlock Affinity Rewards of specific Blades. These quests are fully or partially voice acted and focus on or are completed with the help of their respective Blade character.
Quests in Torna ~ The Golden Country
In Torna ~ The Golden Country finishing quests is essential to increasing the Community level. Some quests will only unlock when the Community level has increased or when other quests have been previously completed.
Community content is available under
CC-BY-SA
unless otherwise noted.