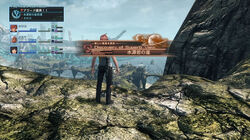 Scenic Viewpoints are discoverable locations in Xenoblade Chronicles X that grant rewards upon Research Probe use. They are known as Superb Views in the Japanese version. They are a type of sightseeing spot that generates more revenue upon Research Probe use on the associated FN Sites. Unexplored Territories are another type of sightseeing spot.
Scenic Viewpoints
Primordia
Noctilum
Oblivia
Sylvalum
Cauldros
Community content is available under
CC-BY-SA
unless otherwise noted.