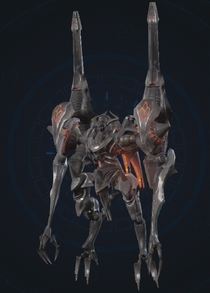 Seidr (Japanese: バスギア, Basugia) are a type of Ganglion Skells in Xenoblade Chronicles X. They are found in Sylvalum and Cauldros.
Description
"Enormous manned units designed to be the next evolution in the Galdr series. As with their predecessors, the shoulder armaments are completely interchangeable, which contributes to their high versatility. The crafts also boast three main weapons, consiting of a hyper rail cannon, maximal missiles, and a fuse blower. Additional weapons are also rumored to be in development.
While their legs are meant for gravity-based combat situations, they can be removed as needed for space combat situations."
Color Variants
Seidr come in three weapon types and four colors, one per weapon, for a total of six variations.
List of Seidr Enemies
Etymology
Seidr may refer to Seiðr, literally "seething" or "boiling" in Old Norse, a high ritual magic and shamanism form and order of sorceresses in the Norse mythology and folklore.
Gallery
Community content is available under
CC-BY-SA
unless otherwise noted.