The future doesn't belong to you!


For those who have not completed games in the Xenoblade Chronicles series, this page contains spoilers regarding the plot. Discretion is advised.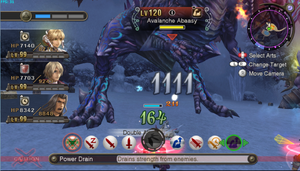 Superboss is the unofficial term used on this wiki to designate the only enemies above level 99 in Xenoblade Chronicles and Xenoblade Chronicles 2. They are Unique Monsters but not bosses; nevertheless, they are the strongest enemies in their respective games.
Xenoblade Chronicles
Xenoblade Chronicles has five superbosses. With the exception of Final Marcus, these Unique Monsters will always be red-tagged regardless of the party's level. The red tags augment the Unique Monsters' agility, damage resistance, and damage dealt to targets. These level 100+ Unique Monsters also have several special abilities. These may include, but are not limited to:
Resistance to Aura Seal, etc.
Damage resistance
Topple counter mechanism, such as topple damage spike or topple time reduced
Immunity to Daze, Sleep, Arts Seal, Strength Down, etc.
Unusually high attack power (however, physical art power multipliers are generally lower than normal)
Extremely strong damage/debuff spike
Level X (10) talent arts
These Unique Monsters appear after the events of Mechonis Core, except for Final Marcus, which appears starting on the first visit of Valak Mountain. All of the superbosses in Xenoblade Chronicles can drop any part of the Glory Armour set; they also all drop the rare Veritas Glyph, needed for a Love Source.
Superbosses
Xenoblade Chronicles 2
In Xenoblade Chronicles 2, eight Unique Monsters are over level 99. All Superbosses except Gladiator Orion and Tyrannotitan Kurodil only appear during the final chapter after entering the First Low Orbit Station. Level 100 normal minor enemies that may be summoned by them, such as Ground Caterpiles summoned by Reeking Douglas, are not considered superbosses, and neither are the minor enemies in the Challenge Battle Mode.
Superbosses
Torna ~ The Golden Country
In Torna ~ The Golden Country, there is only one Superboss. After its location is purchased from the Nopon Halfsage for 700,000 G, the strongest of the Golden Monsters, Hurricane Anise, can be found at level 100 at the Pedestal of Stargazing.
Gallery
Xenoblade Chronicles
Xenoblade Chronicles 2
Community content is available under
CC-BY-SA
unless otherwise noted.