The future doesn't belong to you!


For those who have not completed games in the Xenoblade Chronicles series, this page contains spoilers regarding the plot. Discretion is advised.
The Tephra Cave (Japanese: テフラ洞窟, Tefura Dōkutsu; English dub: /ˈtɛfrə/) is a large, cavernous area in Xenoblade Chronicles. The cave is located inside the Bionis' right leg spanning from the right calf to its kneecap. It must be navigated at least twice throughout the game, once to reach the Cylinder Hangar and once to reach Bionis' Leg. It is first reached via Tephra Cave Entrance at Colony 9. Tephra Cave is the first area where Ether Crystals can be mined.
Story
This cave network is the main path from Colony 9 to Colony 6 and the rest of Bionis. A permanent squad of the Defence Force is within the complex. Another path links the cave with the Cylinder Hangar which rests above Colony 9.
Reyn has been tasked with gathering Cylinders to operate a Mobile Artillery that has crashed into a house in the Residential District of Colony 9. The actual Cylinder Hangar appears to be part of a larger ship, which Shulk theorizes was made by Homs.
After the Mechon assault on Colony 9, a previously sealed door has now been unsealed. Shulk and Reyn use this new path to reach Colony 6. While in the cave, they reach some dead travelers. They decide to allow them to "return to the Bionis", leaving the corpse in a body of water. After this, they decide to rest, while they comment on the lack of travelers on the caves. After Shulk wakes up, he catches up with Reyn, and they are attacked by a group of spiders, which take Reyn hostage. Shulk tries to catch up with him, scared because of a vision he saw with Reyn being killed by a big spider. After a long chase, he manages to catch up with Reyn just before he is killed by the spider. In an act of desperation, Shulk manages to unlock Monado Shield and saves Reyn. Together they manage to kill the beast and safely exit the caves, but not before theorizing that the spider was the reason why nobody from Colony 6 had reached Colony 9 for a while.
After the events in Mechonis Core, a new area of Tephra Cave opens up, which contains enemies of level 90 and up. The new path can be found at Vilia Lake, where there were previously rocks blocking the path. The new area also contains a Giant ruin.
Landmarks and Locations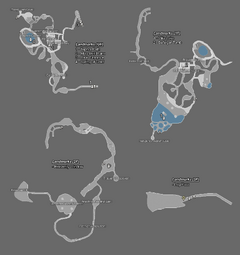 Landmarks
Landmarks GF
Landmarks 1F
Landmarks 2F
Landmarks 3F
Locations
Locations GF
Locations 1F
Locations 2F
Point of Interest
Mining
Near Spring of Grief [Ice]
NE of Vilia Lake [Earth]
S of Vilia Lake [Water]
In the Forgotten Cave [Earth]
NW-most deposit on 2F, no nearby locations or landmarks [Fire]
Near the Heavenly Window [Fire]
Enemies
Normal Minor Enemies
Post Mechonis Core:
Quest Exclusive Enemies
Post Mechonis Core:
Story Exclusive Enemies
Unique Monsters
Post Mechonis Core:
Quest Exclusive Unique Monsters
Post Mechonis Core:
Boss
Heart-to-hearts
Collectopaedia
Main article: Tephra Cave Collection
Quests
Main article: Tephra Cave Quests
Etymology
Tephra (from the Ancient Greek τέφρα, téphra, meaning "ash") is a term used in geology for the fragments of material thrown into the air by a volcano in eruption that settles on the surrounding areas (also knowm as pyroclasts).
Trivia
Gallery