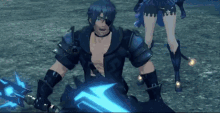 I'm a college student who has some free time to play games and contribute to this wiki. I like to edit the pages on this wiki to help not only myself but others who look to this wiki for valuable info or help.
If you want to contribute to adding enemy stats to pages, the database I use is this Excel worksheet. Just save it to your computer then change the name in B1. Be mindful that it doesn't have information like enrage trigger, art hits, and art ranges (like One Target, Ahead, Circle, etc).
My Current Focus
Adding stats, enraged, and arts table to XC2 enemy pages.
Getting screenshots of enemies (primarily the quest-exclusive enemies) and NPCs.
My favorite pages
Community content is available under
CC-BY-SA
unless otherwise noted.