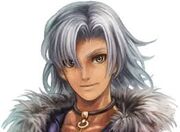 Hello! I'm a keen Xenoblade fan who's here to discuss this incredible series. You probably won't find me making any major edits, but I like to talk about these games with other people who have similar knowledge.
I haven't played X yet, so don't respond to any comments I make with spoilers, thanks!
My favorite XC1 characters
1. Dickson
2. Alvis
3. Dunban
4. Metal Face
5. Egil
6. Riki
7. Seven & Meyneth
My favorite XC2 characters
1. Nia
2. Zeke
3. Jin (mainly in the DLC) & Lora
4. Addam
5. Malos
6. Pyra & Mythra (πνεῦμα's my favourite form)
7. Mikhaill
8. Tora & Poppi
9. Amalthus
10. Brighid
Community content is available under
CC-BY-SA
unless otherwise noted.