Xenoblade Chronicles is a role-playing video game franchise developed by Monolith Soft and published by Nintendo. It is considered to be a part of the Xeno metaseries.
The series currently has three games, which cover the Nintendo Wii, Wii U, and Switch, as well as one port to the New Nintendo 3DS. In addition to the games, the series has also been featured in Super Smash Bros. for Nintendo 3DS / Wii U, Project X Zone 2 and The Legend of Zelda: Breath of the Wild.
History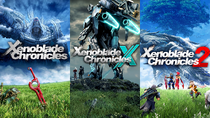 Nintendo unveiled Xenoblade Chronicles at E3 2009, then known as Monado: Beginning of the World. The game was later renamed to Xenoblade to honor the director of the game, Tetsuya Takahashi, who birthed the Xeno metaseries. Xenoblade Chronicles (titled Xenoblade in Japan) was released on June 10, 2010 in Japan, August 19, 2011 in Europe, and April 6, 2012 in North America.
On January 23, 2013, Nintendo announced a new game simply called X. At E3 2014, Nintendo revealed its full name, Xenoblade Chronicles X, and officially confirmed that it was a spiritual successor to Xenoblade Chronicles. Xenoblade Chronicles X was released on April 29, 2015 in Japan and on December 4, 2015 in North America and PAL regions.
In the November 2014 Nintendo Direct, it was announced that Japan would be receiving a Xenoblade Chronicles 3D port for the New Nintendo 3DS. The game was released on April 2, 2015 in both the Japan and PAL regions while the North American version was released on April 10, 2015.
On January 12, 2017, Nintendo announced Xenoblade Chronicles 2 for the Nintendo Switch. The release dates in Japan, North America, Europe, Australia, Hong Kong, and Taiwan are December 1, 2017.
Gallery