The future doesn't belong to you!


For those who have not completed games in the Xenoblade Chronicles series, this page contains spoilers regarding the plot. Discretion is advised.
Xenoblade Chronicles 3, known in Japan as Xenoblade 3 (Japanese: ゼノブレイド3, Zenobureido 3) is a role-playing video game published by Nintendo and developed by Monolith Soft for the Nintendo Switch. The game was announced during the Nintendo Direct presentation on February 9, 2022. The game was released worldwide on July 29, 2022.
It is the third and final main entry in the Klaus saga of the Xenoblade Chronicles series.
Categories
Gameplay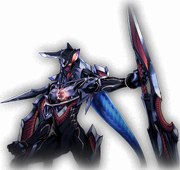 Xenoblade Chronicles 3 uses a similar approach to gameplay mechanics as Xenoblade Chronicles, Xenoblade Chronicles 2 and Xenoblade Chronicles X, such as the freedom to explore the world of Aionios, the ability to run to virtually anywhere seen in the distance, and a semi-action-based battle system with the return of a Arts battle system which involves both auto-attacks and a cooldown timer for each Art.
In this installment, soldiers of Keves and Agnus can materialize the weapons they use in battle, known as Blades, at will. Each soldier's Blade is a reflection of them, so they might take different forms such as swords, guns, shields, or spears. Moreover three pairs of main playable characters can utilize the Interlink system during a battle to combine them into a larger form, called Ouroboros, when certain conditions are met, making them significantly more powerful with special abilities. As the story progresses, the party will meet and be able to recruit a seventh member during battle, called a Hero, as a guest but not controllable character.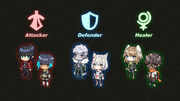 The battle system brings a more strategic dimension with the Tactics system and Roles that are broadly classified into three categories: Attacker, Defender, and Healer. Each of them has different abilities and skills. Attackers specialize in attacking and inflicting heavy damage from the enemy's flanks and back. However their high attack power makes them vulnerable to enemy attacks, so it is important to be able to fight from an advantageous position while dodging enemy attacks. Healers specialize in healing the party. Additionally, only healers are able to revive incapacitated party members. Another strategic option is the Quick Move allowing the played character to temporarily retract and move a certain distance at high speed.
Similar to Torna ~ The Golden Country, the character controlled by the player can be swapped with another while exploring the world. Additionally, unlike in Torna ~ The Golden Country, the player can switch between characters during battle.
Story
Main article: Xenoblade Chronicles 3 (plot)
Xenoblade Chronicles 3 has a story that connects the future of the worlds of Xenoblade Chronicles and Xenoblade Chronicles 2.[1] It is centered around two hostile nations, Keves and Agnus. Six soldiers hailing from these nations, headed by the two protagonists Noah and Mio, take part in a grand tale with life as its central theme.[2]
Characters
Main Characters
Heroes
Downloadable Content
Updates
Several free updates have been released for the game on Switch. These are downloaded automatically when the game is launched if the console has a working internet connection. Each update can expand the game content or fix bugs and glitches.
Version 1.1.0
The version 1.1.0 update was released on July 28th, 2022. It included the following changes:
Added the ability to receive items distributed via the Expansion Pass.

After downloading the Expansion Pass, an "Expansion Pass" option will be added to the Main Menu, letting you receive the distributed items.

The Main Menu can now be opened by pressing the X button during gameplay.
Several issues have been fixed in order to ensure a more comfortable gaming experience.
Expansion Pass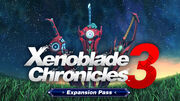 The Xenoblade Chronicles 3 Expansion Pass will contain four waves of updates. They are set to release by July 29, 2022, December 31, 2022, April 30, 2023, and December 31, 2023 respectively.
Adventure Support Pack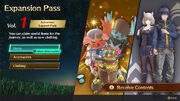 July 29, 2022: A series of helpful items:
Helpful Nopon coins: Nopon Coin (Silver) x30, Nopon Coin (Gold) x10
Outfit color variants:

"Noah - Color #02", "Mio - Color #02", "Eunie - Color #02", "Taion - Color #02", "Lanz - Color #02", "Sena - Color #02"
New Hero & Intense Enemy Battles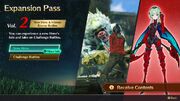 December 31, 2022: Adds a Challenge Battle Mode and a new Hero
Challenge Battle Rule Set 1 (standard)
Fashion outfits (1 new outfit, 4 color variants per outfit)
New Hero character #1
April 30, 2023
Challenge Battle Rule Set 2 (survival)
Fashion outfits (1 new outfit, 4 color variants per outfit)
New Hero character #2
December 31, 2023
Brand new in-game scenario and story content.
Merchandise
Several tie-in products have been or will be released. These include:
A Collector's Edition of the game including cover art by Masatsugu Saito with the following extras:

A 250-page full-color softcover art booklet
A Steelbook(TM)/Special Metal Game Case

Smartphone wallpapers to freely download from My Nintendo
Xenoblade Chronicles 3 themed profile icon elements available with Nintendo Switch Online from July 29th, 2022 to September 1st, 2022.
Amiibo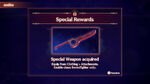 Xenoblade Chronicles 3 is compatible with amiibo. Scanning an amiibo figure will allow the player to receive helpful in-game items. Additionally, scanning the Shulk amiibo will unlock a Monado weapon skin for the Swordfighter class. Up to three amiibo can be scanned per day.
Plushes
Monolith Soft made handmade plushes of Riku & Manana. They have weapons, and "they look so cool and kawaii!" [3]
Gallery
Characters
Artwork
Locations
Logos
Merchandise
Videos
External links
References