Zel Argentis (Japanese: ゼル・シルバー, Zeru Shirubā, Zel Silver) is a High Entia NPC in Xenoblade Chronicles. She is the sister of En Argentis and the daughter of Don Argentis. She can be found in Alcamoth, southeast of the Fountain of Hope, in front of the large fountain at the bottom of the southernmost escalator, from about 20:00 to 03:00.
After the events at the Mechonis Core, if she has not been migrated to Colony 6, she can be found in Satorl Marsh at the Sororal Statues, not far from the pod, on the eastern edge of the platform. At Colony 6, she can be found in the Housing Level 5 area overlooking the lake at 17:00.
Inviting to Colony 6
Housing must be Level 5.
Don Argentis must already have immigrated.
En Argentis must be registered on the Affinity Chart.
Recruiting her means that En Argentis cannot be recruited.
Affinity
Oleksiy (Only if he emigrates to Colony 6)
Trade (Alcamoth)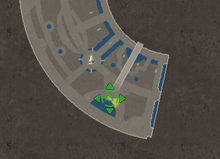 Trade (Satorl Marsh)
Trade (Colony 6)
Quests
Gallery
See also